Guest authored by Jody C. Leng, MD, MS, and Kariem El-Boghdadly, MBBS, BSc (Hons), FRCA, EDRA, MSc. Dr. Leng is a Clinical Assistant Professor at Stanford University School of Medicine and is the Director of Regional Anesthesiology and Acute Pain Medicine at the Veterans Affairs Palo Alto Health Care System. Dr. El-Boghdadly is a consultant anaesthetist and the research and development lead for anaesthesia and perioperative medicine at Guy's and St Thomas' NHS Foundation Trust and is an honorary senior lecturer at King's College in London.
In the spring of 2020, with the coronavirus disease-2019 (COVID-19) pandemic spreading throughout the world, shelter in place orders and travel restrictions forced a massive transformation in the way we live and work.  For academic medical centres, the process of interviewing and selecting applicants for anaesthesia training programmes had to go on.  Likewise, anaesthetic trainees had to face the usual uncertainty of the application process combined with fear of the vastly unknown effects of a novel coronavirus on everything and everyone around them. 
For our regional anaesthesia fellowship programme, we quickly decided to change all interviews to a virtual format since our interview dates had been scheduled for late March 2020.  Through the heroic efforts of our fellowship administrators and physician volunteers, we managed to host successful virtual interviews in an organised fashion and filled every position. 
As a result of this process,  we learned valuable lessons that might be helpful for academic anaesthesia programmes and applicants throughout the rest of the COVID-19 pandemic and beyond.  Based on our experience and the available published literature on this topic, we present six categories of suggestions to make the virtual interview day successful for both the programme and applicants:
Go virtual for all interviews.
Showcase your programme through online content and social media.
Prepare your interviewers including unconscious bias training.
Do a test run.
Plan for glitches.
Treat the day like an in-person interview.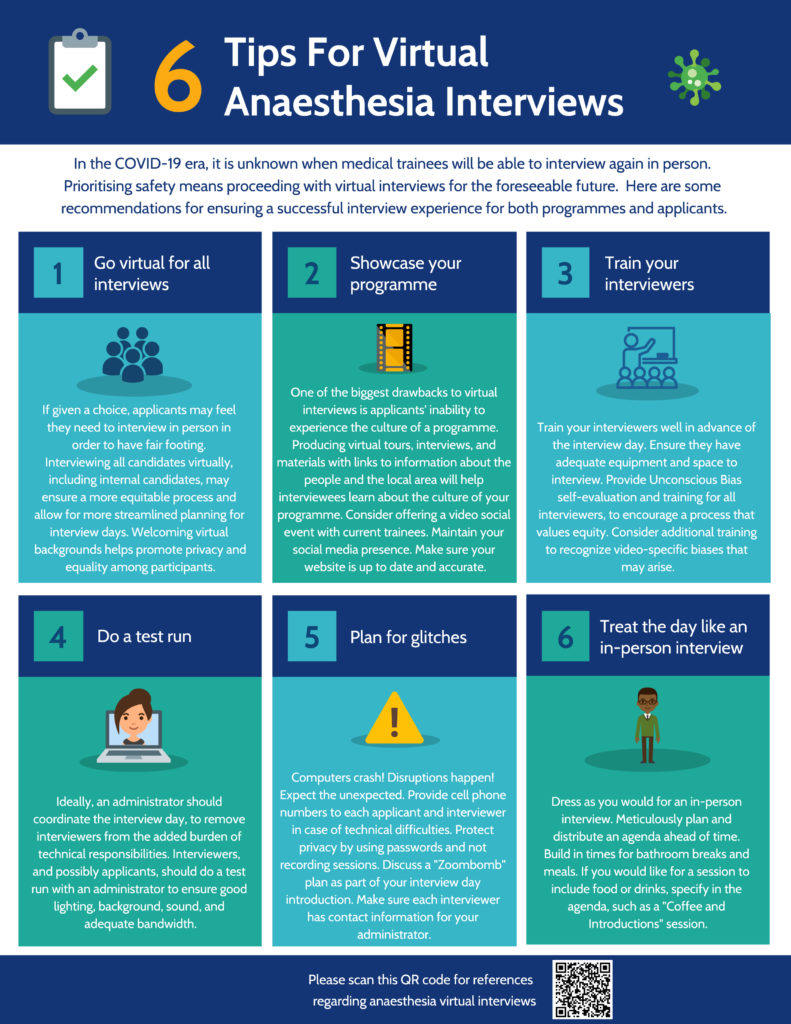 This infographic highlights the important components behind seamless virtual interviews and is intended for distribution to all stakeholders in the anaesthesia interview process: programme directors, programme coordinators and educators, interviewers and interviewees.  We suggest that training programmes consider providing this infographic to applicants, perhaps posting on the programme's website and social media platforms, to inform them in advance both of what the programme is doing to prepare for upcoming interviews as well as what they may want to do as candidates. 
A key element of the interview day that is difficult to replace is the facility tour and informal conversations with faculty and trainees. Every programme should consider creating a high quality video that showcases the environmental features and people that make the programme unique.
While planning for virtual interviews for the foreseeable future may seem daunting, applying these important lessons should ensure an effective, efficient and enjoyable interview experience for all involved.
References
Davis MG, Haas MRC, Gottlieb M, House JB, Huang RD, Hopson LR: Zooming In Versus Flying Out: Virtual Residency Interviews in the Era of COVID-19. AEM Education and Training 2020; 4: 443-446
Joshi A, Bloom DA, Spencer A, Gaetke-Udager K, Cohan RH: Video Interviewing: A Review and Recommendations for Implementation in the Era of COVID-19 and Beyond. Acad Radiol 2020; 27: 1316-1322
Deitte LA, Mian AZ, Esfahani SA, Hu JY: Going Virtual: Redesigning the Interview Experience. J Am Coll Radiol 2020; Epub 13 July: doi.org/10.1016/j.jacr.2020.06.021