Originally included in my editorial for the November 2013 issue of ASRA News.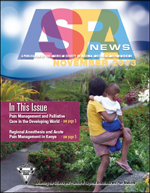 In November 2013 issue of ASRA News, we feature two very special articles that touch on the common theme of global humanitarian aid and volunteerism.  Our Resident Section Committee article by Dr. Anish Doshi provides us with an overview of the paucity of pain management and palliative care services in the developing world.  As a new column for ASRA News, the Member Spotlight, we present the amazing work of Dr. Randy Malchow and his team in bringing regional anesthesia and perioperative pain management services and education to Kijabe Hospital in Kenya.
I should say that the contents of this editorial/blog are my own opinions and do not necessarily represent the official views of ASRA.  The subject of medical volunteerism and global humanitarian aid is important to me, having personally participated in multiple medical missions to underserved communities in the Philippines and Ecuador over the last decade.  Many of our ASRA members have dedicated their time and resources to similar causes at home and abroad, and the American Society of Anesthesiologists (ASA) has its own Global Humanitarian Outreach (GHO) Program.  The statistics related to anesthesia and pain management in the developing world are quite shocking.  It is not uncommon for developing countries to have a ratio of less than 1 anesthesiologist for every 100,000 people!  In the realm of pain management and palliative care, the article by Dr. Doshi is particularly eye-opening and should serve as a strong motivator for our members to get involved in helping the underserved.  What is the best way to do that?
The GHO offers a search engine for ASA members to look up volunteer opportunities abroad.  Not everyone can take weeks or months off work to travel to far-away places.  I have been fortunate in that my wife and I have been able to volunteer together—that is, until recently when we started our latest adventure (parenting).  In addition, although not naturally a cynic, I find myself questioning the real difference certain medical mission groups make.  Even though the before and after photos look great, how much difference does it make to a community when a medical mission group swoops in, repairs some cleft lips, and leaves without every returning?  Yes, I understand the social stigma associated with congenital deformities; I have seen it firsthand.  However, I also know that there is a bigger picture to consider—patient education on nutrition, prenatal care, and health care maintenance; access to basic resources, including food, shelter, and transportation; and infrastructure improvements that are required to sustain change.  Furthermore, does this paternalism actually do damage to future relationships with local health officials and governments within the countries in need, especially when late complications arise after the medical mission groups are long gone?
When you read Dr. Malchow's article, one of the most impressive features of this program is its sustainability.  Not only does this volunteer group provide medical and surgical services to patients in need—a critical part of its "mission" is education of local providers.  Under the direction of Dr. Mark Newton, the Vanderbilt International Anesthesia (VIA) program is engaged in an ongoing relationship with Kijabe Hospital; and by training future generations of local anesthesia providers, VIA is raising the quality and safety of anesthesia and pain management services for the entire region.  One of the most important messages in Dr. Malchow's article is that you don't have to fly to Kenya to make a difference.  VIA would not be able to accomplish its goals without the countless people who have donated medical supplies and money for equipment and shipping.
I have been very fortunate to have joined medical mission groups that generally return to the same communities year after year.  One of the most rewarding aspects of participating, in my experience, has been developing relationships—with team members, local physicians and nurses, students and residents, government officials, and patients and families.  Although we can congratulate ourselves on what we have accomplished so far, there is still so much work left to do.
Related Posts: