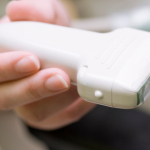 The use of ultrasound guidance in the practice of regional anesthesia arguably began in the late 1980s (1), although ultrasound Doppler technology was used to direct needle insertion for peripheral nerve blockade in the 1970s (2). This past decade has seen a rapid increase in practical applications and clinical research in the field of ultrasound-guided regional anesthesia (UGRA), and the American Society of Regional Anesthesia and Pain Medicine (ASRA) and European Society of Regional Anesthesia have even published joint committee guidelines for training in this discipline (3).
Given the rapid adoption of UGRA, evidence to support this practice was initially limited; however, many studies have emerged in an attempt to define the role of ultrasound. In 2010, ASRA published a series of important articles which distill the body of evidence related to UGRA up to that time point (4-13). Additional studies have been completed and published since 2010 and will be included in an update that should be published in the next year.
Ultrasound Guidance for Extremity Peripheral Nerve Blocks
The 2010 ASRA systematic reviews covering this subject include 24 RCTs which compare ultrasound guidance to an alternative nerve localization technique for either upper or lower extremity peripheral nerve blockade (5). For both upper and lower extremity blocks, the majority of studies report faster block onset when ultrasound is employed (5,6,11), although 5 of 15 studies in the upper extremity and 2 of 5 studies in the lower extremity fail to find a difference in onset time (5). There is evidence to support a decrease in procedural time when ultrasound is used for upper and lower extremity blocks (6-11); however, set-up time and pre-scanning with ultrasound are not consistently measured or reported. In terms of block quality, lower extremity studies are more likely to report an advantage with ultrasound than upper extremity studies; only 4 of 16 upper extremity studies show improvement with ultrasound, and these studies use nerve stimulation or transarterial injection as the comparator (5). When a fixed time point is used for assessing block success, ultrasound use is more likely to show an advantage although the definitions of successful block vary widely (6,11). Only one study in the upper extremity shows a difference in block duration in favor of ultrasound while all other RCTs do not demonstrate a difference (5). For femoral and subgluteal sciatic nerve blocks, ultrasound use decreases the minimum effective anesthesia volume to achieve a successful block in 50% of patients (11).
Ultrasound for Continuous Peripheral Nerve Blocks
Although many large case series describing ultrasound-guided techniques for continuous peripheral nerve block (CPNB) performance have been published, there are relatively-fewer RCTs comparing ultrasound to other nerve localization techniques for CPNB. When an exclusively ultrasound-guided technique is compared to a stimulating catheter technique, procedural duration is shorter with ultrasound at four distinct insertion sites (14-17) with less procedure-related pain for lower extremity catheters (14,16) and fewer inadvertent vascular punctures for femoral and infraclavicular catheters (14,15). Most studies report similar analgesia and other acute pain outcomes from catheters placed with ultrasound when compared to other methods (18-20), with the exception of one study involving popliteal-sciatic catheters which suggests that stimulating catheters may provide an analgesic advantage although successful placement occurs less often (21).
Ultrasound for Truncal and Neuraxial Blocks
To date, RCTs comparing ultrasound guidance to traditional techniques for paravertebral blockade or transversus abdominis plane (TAP) blocks have yet to be reported. For both of these procedures, the 2010 ASRA systematic review recommends the use of ultrasound although this recommendation is based on case series data only (4). In one study comparing ultrasound-guided TAP to conventional ilioinguinal/iliohypogastric nerve blocks for inguinal hernia repair, subjects who received ultrasound-guided TAP blocks reported lower pain scores for the first 24 hours (22). Ultrasound-guidance and the landmark-based technique for ilioinguinal/iliohypogastric nerve blocks have been compared in children with the ultrasound-guided technique resulting in decreased need for systemic analgesic supplementation (23). For neuraxial blocks, there is evidence to support ultrasound scanning prior to employing conventional neuraxial block techniques rather than relying solely on surface landmarks (10), especially in patients with challenging anatomy (24).
Ultrasound for Regional Anesthesia in Special Populations
Ultrasound-guided techniques for peripheral (25) and neuraxial (26) blocks in children have been described previously. The 2010 ASRA evidence-based review on ultrasound for pediatric regional anesthesia included 6 RCTs involving peripheral nerve blocks and one randomized trial in neuraxial blockade in addition to case series of >10 patients (12). In this population, ultrasound may improve the speed of block onset and duration of analgesia, increase success rates for truncal blocks compared to blind techniques, and reduce the volume of local anesthetic required (12). In obese patients, ultrasound may play a role in identifying target peripheral and neuraxial structures as well as real-time procedural performance (27). When performing CPNB in obese patients, procedural time is not prolonged compared to non-obese patients when as long as ultrasound is used (28).
In summary, there is sufficient evidence to support the use of ultrasound guidance for peripheral nerve blockade based on short-term outcomes, and the results of a large prospective registry study suggest that ultrasound may decrease in the risk of local anesthetic systemic toxicity (29). Additional prospective studies are needed to further define the role of ultrasound in neuraxial blockade, long-term patient outcomes, and advantages in special populations.

References
Ting PL, Sivagnanaratnam V: Ultrasonographic study of the spread of local anaesthetic during axillary brachial plexus block. Br J Anaesth 1989; 63: 326-9
la Grange P, Foster PA, Pretorius LK: Application of the Doppler ultrasound bloodflow detector in supraclavicular brachial plexus block. Br J Anaesth 1978; 50: 965-7
Sites BD, Chan VW, Neal JM, Weller R, Grau T, Koscielniak-Nielsen ZJ, Ivani G: The American Society of Regional Anesthesia and Pain Medicine and the European Society Of Regional Anaesthesia and Pain Therapy Joint Committee recommendations for education and training in ultrasound-guided regional anesthesia. Reg Anesth Pain Med 2009; 34: 40-6
Abrahams MS, Horn JL, Noles LM, Aziz MF: Evidence-based medicine: ultrasound guidance for truncal blocks. Reg Anesth Pain Med 2010; 35: S36-42
Liu SS, Ngeow J, John RS: Evidence basis for ultrasound-guided block characteristics: onset, quality, and duration. Reg Anesth Pain Med 2010; 35: S26-35
McCartney CJ, Lin L, Shastri U: Evidence basis for the use of ultrasound for upper-extremity blocks. Reg Anesth Pain Med 2010; 35: S10-5
Narouze SN: Ultrasound-guided interventional procedures in pain management: Evidence-based medicine. Reg Anesth Pain Med 2010; 35: S55-8
Neal JM: Ultrasound-guided regional anesthesia and patient safety: An evidence-based analysis. Reg Anesth Pain Med 2010; 35: S59-67
Neal JM, Brull R, Chan VW, Grant SA, Horn JL, Liu SS, McCartney CJ, Narouze SN, Perlas A, Salinas FV, Sites BD, Tsui BC: The ASRA evidence-based medicine assessment of ultrasound-guided regional anesthesia and pain medicine: Executive summary. Reg Anesth Pain Med 2010; 35: S1-9
Perlas A: Evidence for the use of ultrasound in neuraxial blocks. Reg Anesth Pain Med 2010; 35: S43-6
Salinas FV: Ultrasound and review of evidence for lower extremity peripheral nerve blocks. Reg Anesth Pain Med 2010; 35: S16-25
Tsui BC, Pillay JJ: Evidence-based medicine: Assessment of ultrasound imaging for regional anesthesia in infants, children, and adolescents. Reg Anesth Pain Med 2010; 35: S47-54
Jadad AR, Moore RA, Carroll D, Jenkinson C, Reynolds DJ, Gavaghan DJ, McQuay HJ: Assessing the quality of reports of randomized clinical trials: is blinding necessary? Control Clin Trials 1996; 17: 1-12
Mariano ER, Cheng GS, Choy LP, Loland VJ, Bellars RH, Sandhu NS, Bishop ML, Lee DK, Maldonado RC, Ilfeld BM: Electrical stimulation versus ultrasound guidance for popliteal-sciatic perineural catheter insertion: a randomized controlled trial. Reg Anesth Pain Med 2009; 34: 480-5
Mariano ER, Loland VJ, Bellars RH, Sandhu NS, Bishop ML, Abrams RA, Meunier MJ, Maldonado RC, Ferguson EJ, Ilfeld BM: Ultrasound guidance versus electrical stimulation for infraclavicular brachial plexus perineural catheter insertion. J Ultrasound Med 2009; 28: 1211-8
Mariano ER, Loland VJ, Sandhu NS, Bellars RH, Bishop ML, Afra R, Ball ST, Meyer RS, Maldonado RC, Ilfeld BM: Ultrasound guidance versus electrical stimulation for femoral perineural catheter insertion. J Ultrasound Med 2009; 28: 1453-60
Mariano ER, Loland VJ, Sandhu NS, Bellars RH, Bishop ML, Meunier MJ, Afra R, Ferguson EJ, Ilfeld BM: A trainee-based randomized comparison of stimulating interscalene perineural catheters with a new technique using ultrasound guidance alone. J Ultrasound Med 2010; 29: 329-336
Ilfeld BM: Continuous peripheral nerve blocks: a review of the published evidence. Anesth Analg 2011; 113: 904-25
Fredrickson MJ, Danesh-Clough TK: Ambulatory continuous femoral analgesia for major knee surgery: a randomised study of ultrasound-guided femoral catheter placement. Anaesth Intensive Care 2009; 37: 758-66
Choi S, Brull R: Is ultrasound guidance advantageous for interventional pain management? A review of acute pain outcomes. Anesth Analg 2011; 113: 596-604
Mariano ER, Loland VJ, Sandhu NS, Bishop ML, Lee DK, Schwartz AK, Girard PJ, Ferguson EJ, Ilfeld BM: Comparative efficacy of ultrasound-guided and stimulating popliteal-sciatic perineural catheters for postoperative analgesia. Can J Anaesth 2010; 57: 919-926
Aveline C, Le Hetet H, Le Roux A, Vautier P, Cognet F, Vinet E, Tison C, Bonnet F: Comparison between ultrasound-guided transversus abdominis plane and conventional ilioinguinal/iliohypogastric nerve blocks for day-case open inguinal hernia repair. Br J Anaesth 2011; 106: 380-6
Willschke H, Marhofer P, Bosenberg A, Johnston S, Wanzel O, Cox SG, Sitzwohl C, Kapral S: Ultrasonography for ilioinguinal/iliohypogastric nerve blocks in children. Br J Anaesth 2005; 95: 226-30
Chin KJ, Perlas A, Chan V, Brown-Shreves D, Koshkin A, Vaishnav V: Ultrasound imaging facilitates spinal anesthesia in adults with difficult surface anatomic landmarks. Anesthesiology 2011; 115: 94-101
Tsui B, Suresh S: Ultrasound imaging for regional anesthesia in infants, children, and adolescents: a review of current literature and its application in the practice of extremity and trunk blocks. Anesthesiology 2010; 112: 473-92
Tsui BC, Suresh S: Ultrasound imaging for regional anesthesia in infants, children, and adolescents: a review of current literature and its application in the practice of neuraxial blocks. Anesthesiology 2010; 112: 719-28
Brodsky JB, Mariano ER: Regional anaesthesia in the obese patient: lost landmarks and evolving ultrasound guidance. Best Pract Res Clin Anaesthesiol 2011; 25: 61-72
Mariano ER, Brodsky JB: Comparison of procedural times for ultrasound-guided perineural catheter insertion in obese and nonobese patients. J Ultrasound Med 2011; 30: 1357-61
Barrington MJ, Kluger R: Ultrasound guidance reduces the risk of local anesthetic systemic toxicity following peripheral nerve blockade. Reg Anesth Pain Med 2013; 38: 289-297
Related Posts: