An interesting article I read recently confirmed previous studies' estimation that it takes an average of 17 years before research evidence becomes widely adopted in clinical practice (1)–17 years!
In this article, Morris and colleagues differentiate "translational research" into two types: Type 1 (T1) which refers to experimental testing of basic science research findings in human subjects; and Type 2 (T2) which is the process of taking the results of clinical research and changing clinical practice based on them.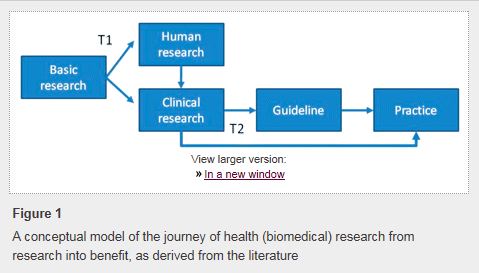 In 2001, the Institute of Medicine released "Crossing the Quality Chasm: a New Health System for the 21st Century." One of the ten rules for redesigning the system refers to evidence-based clinical decision-making. The report brief explicitly states: "Patients should receive care based on the best available scientific knowledge. Care should not vary illogically from clinician to clinician or from place to place."
Changing physicians' behavior is rarely easy (although occasionally it can be), and many smart people have tried to study what works and what doesn't. One study published in JAMA that focused on physician adherence to practice guidelines identified 7 categories of change barriers (2):
Lack of awareness (don't know guidelines exist)
Lack of familiarity (know guidelines exist but don't know the details)
Lack of agreement (don't agree with recommendations)
Lack of self-efficacy (don't think they can do it)
Lack of outcome expectancy (don't think it will work)
Inertia (don't want to change)
External barriers (want to change but blocked by system factors)
Outside of medicine, many industries have explored the reasons behind failure of change management or failure of implementation and have made suggestions intended to facilitate change. While these recommendations make sense, they are often easier said than done. In health care, there is a great deal of "dogma-logy" (the non-scientific practice of doing what you've been told to do based on no available evidence) that must be overcome. Implementation researchers suggest "incremental, context-sensitive, evidence-based management strategies for change implementation" and the need for local champions within front line staff (e.g., nurses and unit managers) to drive change (3). This is consistent with lean management. This still may not be enough, especially if the proposed change is perceived as being overly complex or just more work (4).
The evolution of modern communication may help overcome some of the perceived barriers (2). Use of social media, Twitter in particular, may be a powerful tool to rapidly disseminate new knowledge. It can be used to share new journal articles as they are published or exciting research results even before they are published. Physicians can follow their professional societies and scientific journals, but also follow thought leaders, business schools, and economic journals that post on organizational culture and change management. In the era of Twitter chats and "live-tweeting" medical conferences, lack of awareness (#1) or familiarity (#2) is no longer an acceptable excuse.
In addition, social media networks may also provide moral support (#4) through global conversations, and colleagues may provide real-life examples of successful implementation strategies (#5) that may help generate enough motivation to drive change (#6). However, sometimes inertia may be easy to overcome. According to Dr. Audrey Shafer, Stanford Professor and physician anesthesiologist, "There should be some acknowledgement of the complexity-to-benefit ratio. If complexity of the change is low, and the benefit high, then I believe the behavioral change is swifter. The prime example in my lifetime is the use of pulse oximetry. It may have been a long time from the concept of pulse oximetry until the first viable commercially available oximeter was available in clinical practice, but after an anesthesiologist used it once, he/she did not want to do another case without one."
That still leaves lack of agreement (#3) and external barriers (#7). Even if you don't agree with the scientific evidence, at least be open to observe. I really like the design thinking approach as described by Ideo and others and think it has a place in health care change implementation. You can download the free toolkit for educators here. I tweeted Ideo's figure of the design process with its 5 phases recently and got a great response.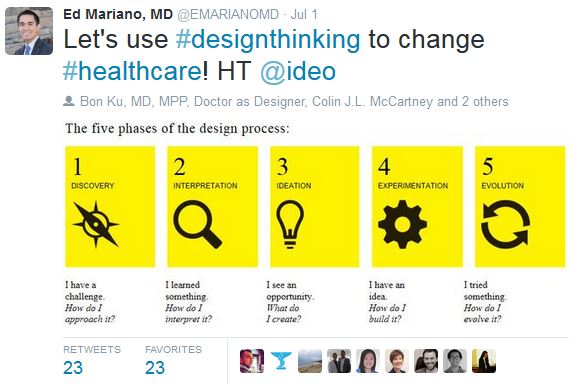 This approach makes a lot of sense in medicine. It has many similarities to the way we approach patient care: observe a diagnostic dilemma, order tests and interpret them, consider the differential diagnosis, attempt a treatment, and adjust treatment based on the observed outcome.

To overcome external barriers to change in health care, senior leaders must be engaged and actively participate in improvement efforts (5). I strongly encourage physicians to step up and take on some of these leadership roles. Sometimes saying "yes" to something that seems relatively small will lead to bigger opportunities down the road. By becoming leaders, physicians can be the ones to drive the change that they want to see in clinical practice.
REFERENCES:
Related Posts: